Vigor2820n won "Best Performance" award from PC Magazine in Greece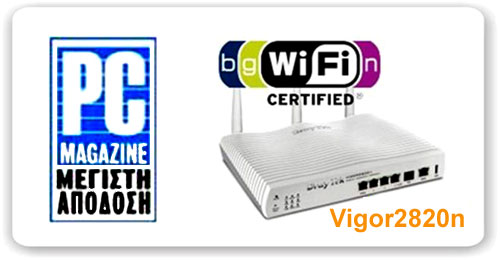 DrayTek's Vigor2820n, ADSL2/2+ Security Firewall was awarded the "Best Performance" prize, during the last test of ADSL routers, carried out in the Labs of PC Magazine in Greece.
The results of the test, which were published in the magazine's August issue, show that V2820n ADSL Router, which supports wireless networks (802.11n), scored the best overall performance and particularly the highest Wi-Fi speeds, best synchronization rates & high routing throughput. Furthermore Vigor2820n was distinguished due to its exceptional routing capabilities, like throughput, as well as its wealth of characteristics and superior quality.
It is noted that 23 other competitive models from 12 different manufacturers were also participating in the specific PC Magazine test.
Very positive comments were also stated for model Vigor2820Vn that was also participating in the test, especially for its supreme features and VoIP capabilities.
Click to see original test review in PC Magazine in Greece
About Draytek
DrayTek, state-of-the-art firmware designer and quality hardware producer is the reliable supplier of novel networking & telecommunications for SOHO and SMB. At present, DrayTek's solutions, ranging from enterprise-level firewalls, mission-critical bandwidth management and comprehensive VPN facilities, triple play routers, to prospective IP PBX solutions, can meet the market trend and go above and beyond customer'' expectations.