DrayTek's Vigor2920n receive "Excellent" evaluation result by CHIP magazine in Hungary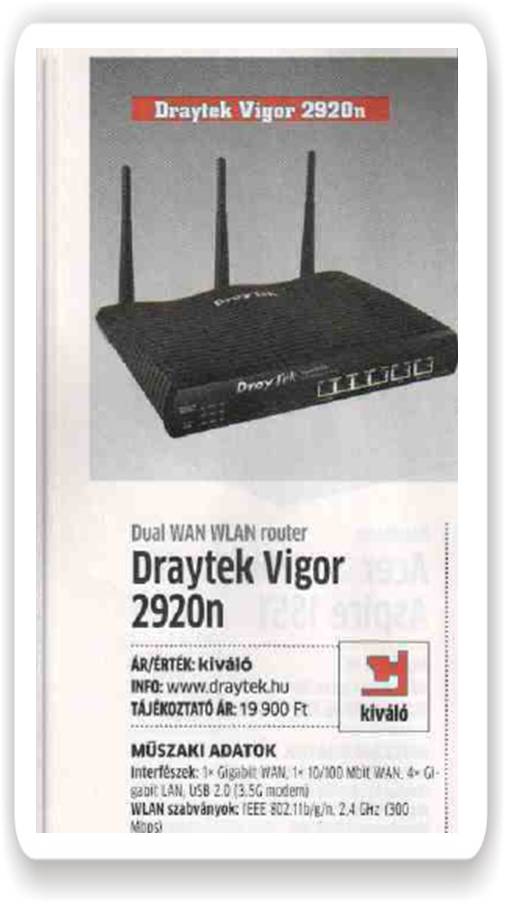 CHIP magazine specializes on computer and communications categories published in 15 countries of Europe and Asia. DrayTek is proud to receive the "Excellent" evaluation result by CHIP magazine in Hungary (Click to see Vigor2920n product details).
Summary in English
Technical Specifications:
Interfaces: 1xGigabit WAN,1x 10/100Mbit WAN, 4x Gigabit LAN, USB 2.0 port for 3.5g Modem

WLAN: IEEE 802.11 b/g/n, 2,4 GHz (300Mbps)

Extras: QoS, 32 VPN tunnel, 3,5G modem WAN backup/load balance, NTP client
Brief
Vigor2920n LAN/WAN interfaces (ports) are located in the front of the router with one a Gigabit WAN port. By its easy-to-use web user interface, administrators can setup variety of rules for bandwidth management or connection backup, such as USB port to connect 3G modem.
Vigor2920n is designed more for business usage based on its powerful features for business operation such as, the versatile firewall and QoS and handling 32 VPN tunnels simultaneously, traffic record by graphs, 4 SSID to separate WLAN and supporting up-to 50,000 NAT sessions.
In short: Fast, high-performance router serving many users at the same time
Evaluation written by Hungarian in Chip magazine
About Draytek
DrayTek, state-of-the-art firmware designer and quality hardware producer is the reliable supplier of novel networking & telecommunications for SOHO and SMB. At present, DrayTek's solutions, ranging from enterprise-level firewalls, mission-critical bandwidth management and comprehensive VPN facilities, triple play routers, to prospective IP PBX solutions, can meet the market trend and go above and beyond customer'' expectations.